September – October  2023
Healing Sounds Retreat
From Nov 23-27,2023 @ Vaidyagrama Ayurveda Healing Village
A Satsangam Event- Organised by Punarnava Ayurveda Trust and Vaidyagrama Community Trust.
On the final day Nov 27,2023 we have a special program on Music therapy by Purvaa Sampath from 4.30pm to 5.30pm.
Sound, in the form of drumming, chanting, recitation, repetition of mantra, singing, instrumental music, and the ringing of bells has been an integral part of devotional traditions since ancient days. Sound is associated with ākāśa (space), the most subtle of the five great mahābhūta (elements). Its subtlety offers the potential to usher us into the subtle realms of consciousness where we may experience devotion, clarity, focus, love and healing. During the five days of the retreat participants will participate actively in these practices, thereby enjoying direct experience of the very different effects of these distinct manifestations of sound.
We invite you to participate in the healing sounds retreat, where besides understanding the above effects of sound,  the delegates also would be receiving 2-3 Ayurveda treatments during afternoons after consultation with senior Ayurveda physicians.
To register for the retreat- Please visit the following link..
Featuring:
Shantala Sriramaiah
Nina Rao
Dr Shubham Kulkarni
Allison Dennis
Our Patrons :
Dr Robert Svoboda,
Dr Claudia Welch and
Dr Ramkumar.
Panchakarma Therapy Program
Date: April 2- Sept 27,2024.
Place: Vaidyagrama, Organised by Punarnava Ayurveda Trust.
Punarnava Ayurveda Trust is pleased to announce the launch of this six-month Certification program, fulfilling a long-standing need to train Panchakarma Therapists in traditional techniques and operations for Ayurveda healing. This Panchakarma Therapist Program presents a new benchmark in the training and development of Panchakarma Therapists while supporting the restoration of scriptural Ayurveda from ancient texts. Graduates can expect gainful, satisfying and sattvic employment while practicing a sustainable skill, while Ayurveda is regaining prominence worldwide as the medical system of choice for efficacy and sustainability.Punarnava Ayurveda Trust is committed to the administration and management of staff and students, toward their highest good and best humanitarian interests.
For more details please visit the link below.
https://www.vaidyagrama.com/panchakarma-therapist.html
Activities of Trust in September – October 2023
Free Ayurveda Medical Camp and Community lunch
Kummattipathi Village on 2 Sept 2023
Over 75 patients consulted and got free medicines from our senior Vaidyas Dr Sreeji V Nair and Dr Prameela K P along with other Ayurveda team members. There was a sumptuous meal awaiting the 150 villagers including patients who relished the food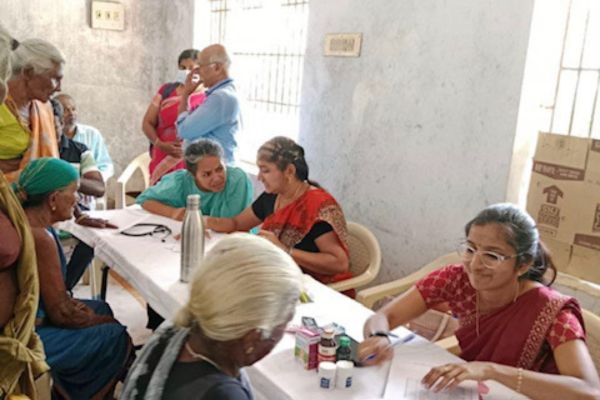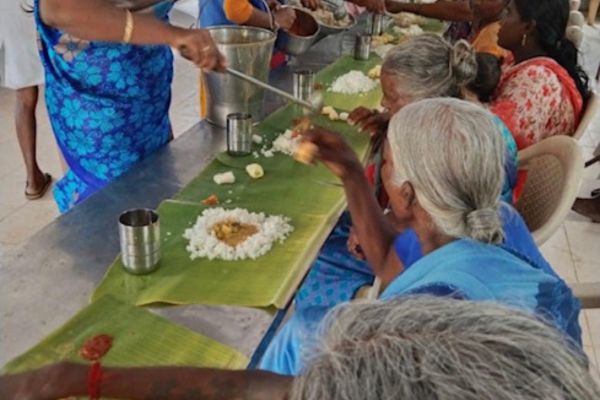 Appachigoundenpathi village on 7 Oct 2023
44 patients consulted Dr's Sajna and Anjali along with the therapist team who helped with handing over the medicines. A sumptuous meal awaited the 130 villagers who enjoyed the food.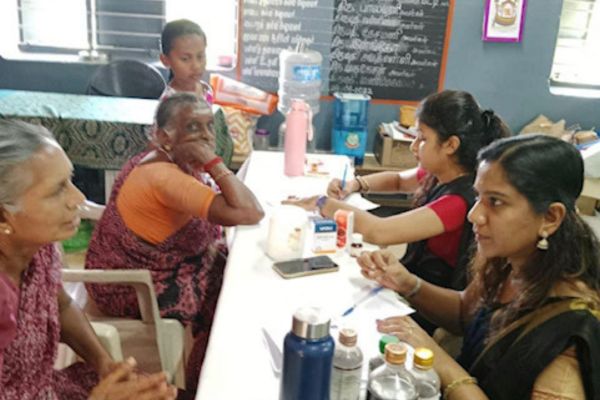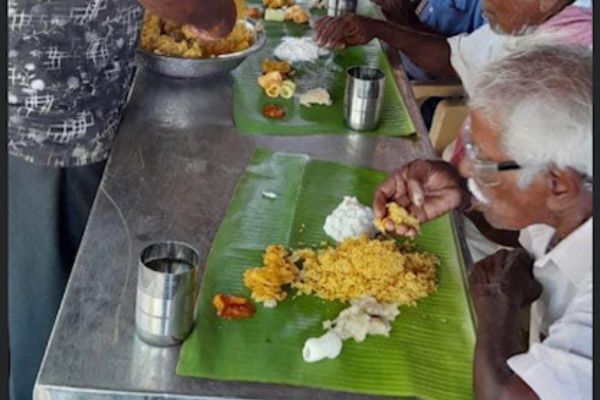 Let us lovingly salute all who & what have been teachers to us with learnings in all aspects always! Vaidyagrama family thanks all teachers on Teachers day.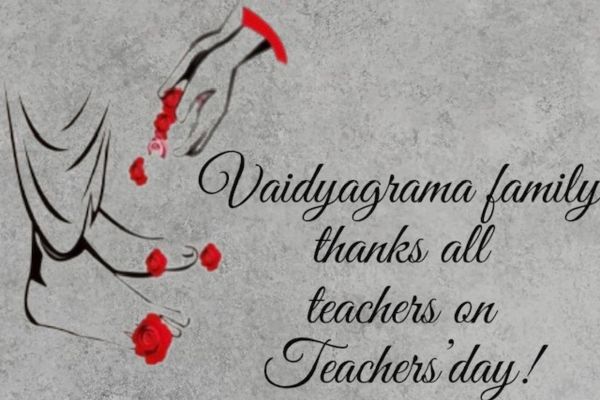 Sep 6,2023 – Krishna Jayanathi Celebration
It showered love, prayers, laughter & flute music in vaidyagrama ayurveda village, while all family was celebrating Janmashtami with our dear Krishnas & Gopis, on a rainy evening!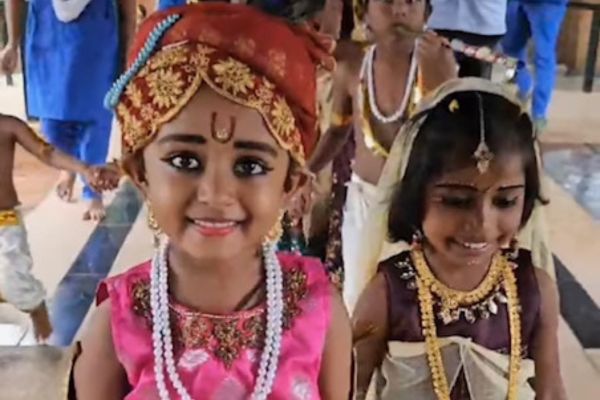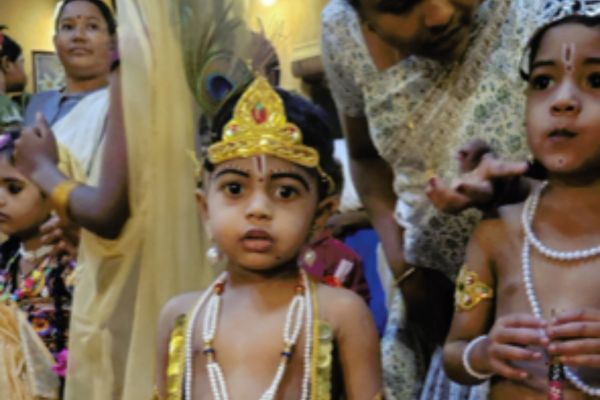 Sept 18,2023- Ganesh Chaturthi Celebrations
A decorated idol of Lord Ganesha was ceremoniously brought to Brahmakamalam amidst chanting of prayers by staff and patients of Vaidyagrama. Pujas and prayers were conducted and prasadams distributed during the one and half days Lord Ganesha stayed at Brahmakamalam. On 19th Sept, evening the idol was ceremoniously taken in a procession to a near by river for immersion.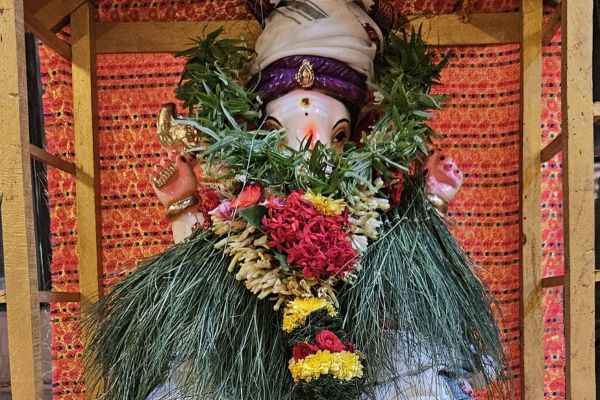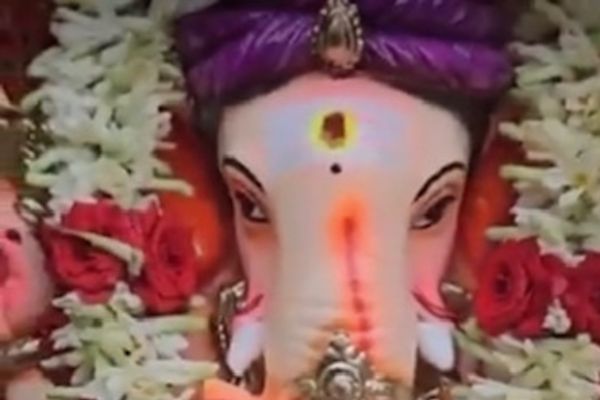 An initiative of Punarnava Ayurveda Trust, organised Bharatanatyam dance class for children of Vaidyagrama staff and also children from Vaidyagrama neighbourhood from April 2023. There are 16 students learning dance from Ms Varsha, who is a student of Kalakshetra chennai, and is proficient in Bharatanatyam dance form. The students participated in a dance performance choreographed by Ms Varsha, at Vaidyagrama during Navaratri on the dashami day on Dussehra. Kalagrama also announced about the new carnatic music class to be conducted once a week for the children to be taught by Ms Varsha.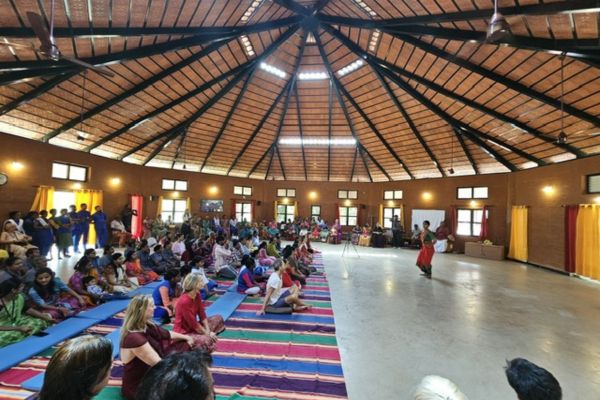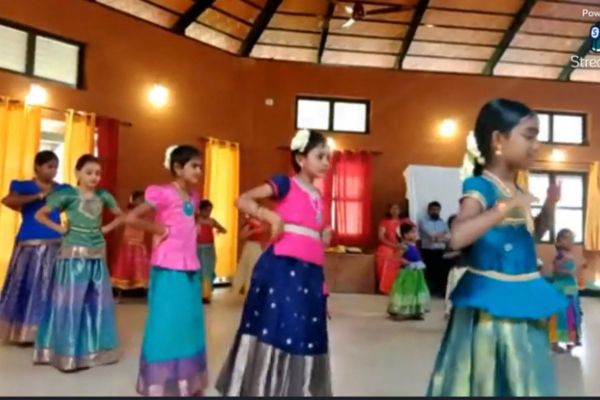 Navarathri Celebrations at Vaidyagrama
A beautiful presentation of decorated dolls, depicting characters from the stories of the puranas ,of gods and godesses were arranged at Brahmakamalam for Navaratri this year also. Special Devi Mahatmyam recital was organised at Brahmakamalam on Oct 19,2023..
New Narmadeswar Prathishta at Brahmakamalam.
Narmadeswar, the new tall idol of shivalingam was presented to Vaidyagrama by Swami Samvidanand Saraswathi. The shivalingam prathishta was done at Brahmakamalam amidst chanting of prayers in the presence of staff and patients at Vaidyagrama.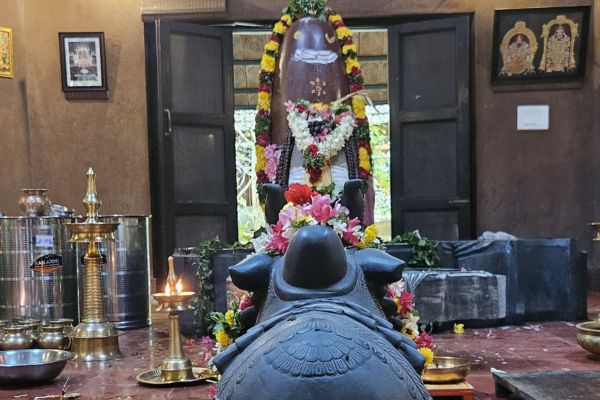 Overseas visits of Vaidyagrama Vaidyas
Dr Anupama K, Medical officer, Vaidyagrama successfully conducted an Ayurveda Detoxification course in Shivananda Ashram at Vietnam in October 2023.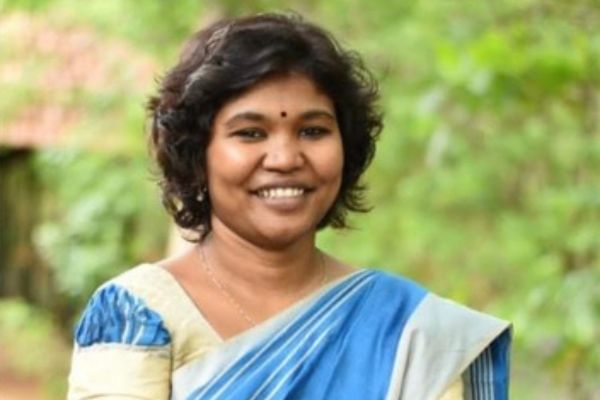 Dr Ramadas A R, Medical Director of Vaidyagrama and Dr Sajna C, Medical officer, Vaidyagrama have embarked on a journey to provide Ayurveda support at a wellness retreat in Italy from Oct 29,2023 to Nov 28,2023