Healing Sounds Retreat
From Nov 23-27,2023 @ Vaidyagrama Ayurveda Healing Village
A Satsangam Event- Organised by Punarnava Ayurveda Trust and Vaidyagrama Community Trust.
On the final day Nov 27,2023 we have a special program on Music therapy by Purvaa Sampath from 4.30pm to 5.30pm.
Sound, in the form of drumming, chanting, recitation, repetition of mantra, singing, instrumental music, and the ringing of bells has been an integral part of devotional traditions since ancient days. Sound is associated with ākāśa (space), the most subtle of the five great mahābhūta (elements). Its subtlety offers the potential to usher us into the subtle realms of consciousness where we may experience devotion, clarity, focus, love and healing. During the five days of the retreat participants will participate actively in these practices, thereby enjoying direct experience of the very different effects of these distinct manifestations of sound.
We invite you to participate in the healing sounds retreat, where besides understanding the above effects of sound,  the delegates also would be receiving 2-3 Ayurveda treatments during afternoons after consultation with senior Ayurveda physicians.
To register for the retreat- Please visit the following link..
Featuring:
Shantala Sriramaiah
Nina Rao
Dr Shubham Kulkarni
Allison Dennis
Our Patrons :
Dr Robert Svoboda,
Dr Claudia Welch and
Dr Ramkumar.
Ayurjeevanam- Psychological Disorders
Date: September  5 – 9 , 2023
Timing: IST 6.30am to IST 8.30 am
The third online course in the 3 course bundle of Ayurjeevanam after Infectious diseases, Auto immune diseases, is to be conducted.
The topics being covered for the 5 days include
Sept 5,2023: Ayurveda perspective on Eating Disorder
Sept 6,2023: Ayurveda understanding of Depression
Sept 7,2023: Ayurveda concept of Anxiety Disorder
Sept 8,2023: Ayurveda perspective on Substance Abuse
Sept 9,2023: Ayurveda concept of Schizophrenia
To join the online learning program, please click on the link below.
https://ayurvedaeducation.org/ayur-jeevanam-bundle/
Glimpses of Ayurveda Conversations 2023- Aug 18-20,2023
Around 46 panelists, 12 Moderators, 150 doctors, students interns, national and international online participants and many guests participated in the Ayurveda Conversations 2023.
The conference, ignited many sparks in the minds of the students and young doctors and promised to continue to indulge in deep dialogues in the coming years. Young doctors who participated in the Ayu Emergency Yatra were felicitated, and the satsang about their experience during the yatra also interested the budding doctors.
One of the senior vaidyas, who attended the Ayurveda Conversations, Dr Srivats, wrote his comment about the program as below.
Dear all at Vaidyagram and Saranya,
I believe Krishna Kumar ji would have been very happy to see the gathering again to discuss and deliberate on the various issues in the current period regarding Ayurveda from his abode….
The process of thinking in every individual is influenced by the thoughts of the peers..
I believe that the Ayurveda conversations have given enough material to think over and rate oneself and evolve according to his ability and need…
I feel fortunate to be able to attend all the sessions…
My namaskarams to all who were behind the program for their thoughtful intervention in molding the thought pattern of all who are responsible for the promotion of Ayurveda in the right way..
Sincerely
Sreevaths.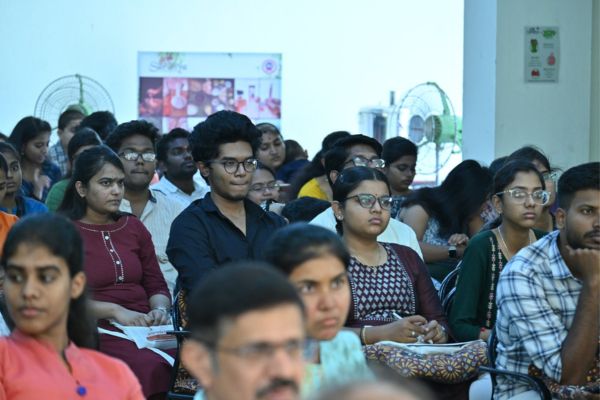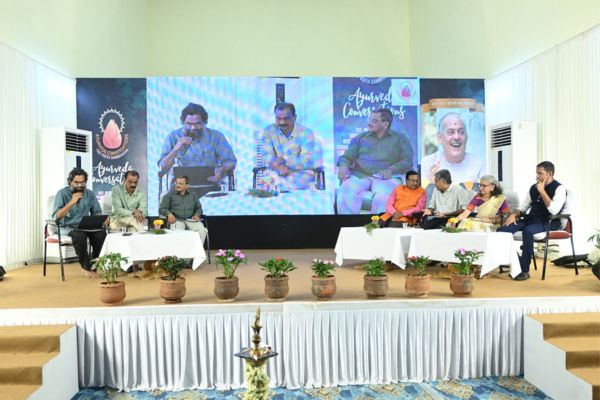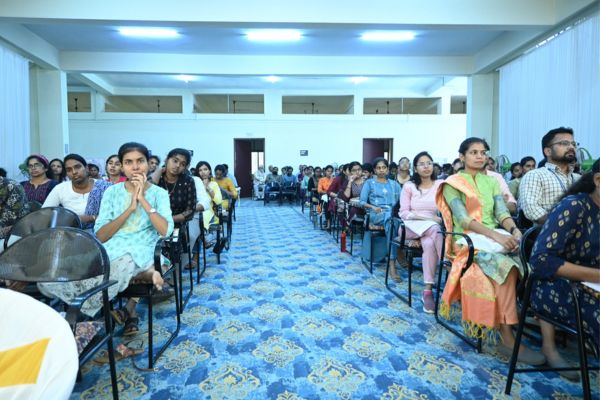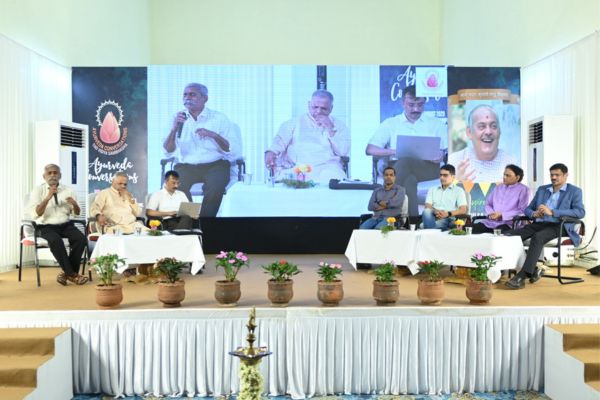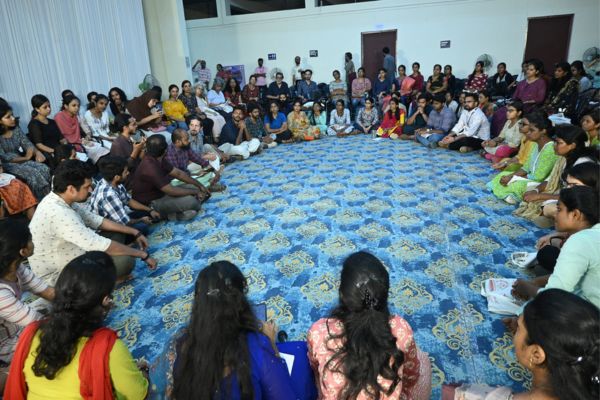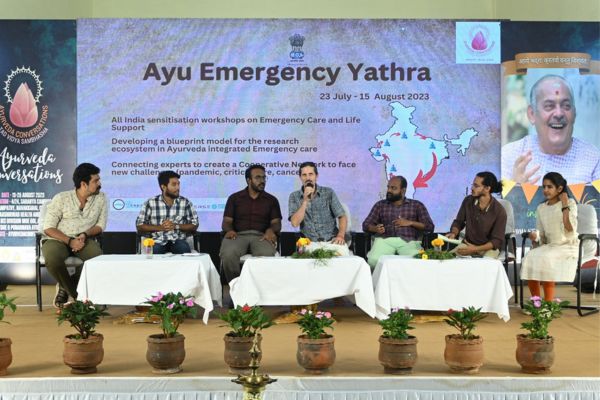 Support : Vidyasagar Gurukulam.
About the gurukulam : Swami Gnanananda Saraswatiji handed over the Kondayur Ashram to Padmashri P R Krishnakumar, and in 2001, Krishnakumarji , was inspired to start the "VidyaSagar Gurukulam School" along with late Pujya Prema Pandurang, under the auspices of the Kshetropasna Trust. Vidya Sagar Gurukulam School aims to provide quality education to the children in and around Kondayoor Village. We admit only 30-35 students in the Pre-primary class. This helps to give a lot of individual attention and care to the student. The medium of instruction is English but we give equal importance to Sanskrit, Malayalam And Hindi , and also we are giving classes on Jyothisham (Astrology), Basic Ayurveda and Vasthuvidya.
From June 2023, in memory of Krishnakumarji and Prema Pandurangji, free Annadanam was started at the gurukulam. This is aimed at providing nutritious food to the students on the days they are in school for the 5 days. Every day meal cost Rs 6000/-.
Vidyasagar Gurukulam also needs support of all to run the school as well as for the Annadanam.Punarnava Ayurveda Trust is committed to providing the support to the gurukulam. You can send your donations to
Punarnava Ayurveda Trust,
Current ac 815020110000802,
with Bank of India, R N Puram Branch, IFSC code- BKID0008150.
You can also send your donations directly to Aashirwad Health and Educational Trust
Aashirwad Health and Education Trust,
Current ac 38166531328
With State Bank of India,Pichanur- IFSC- SBIN0015763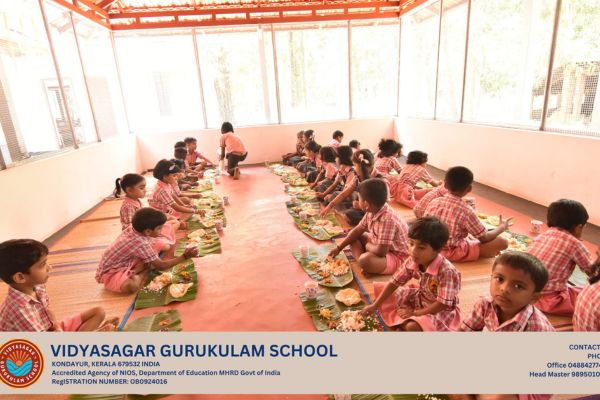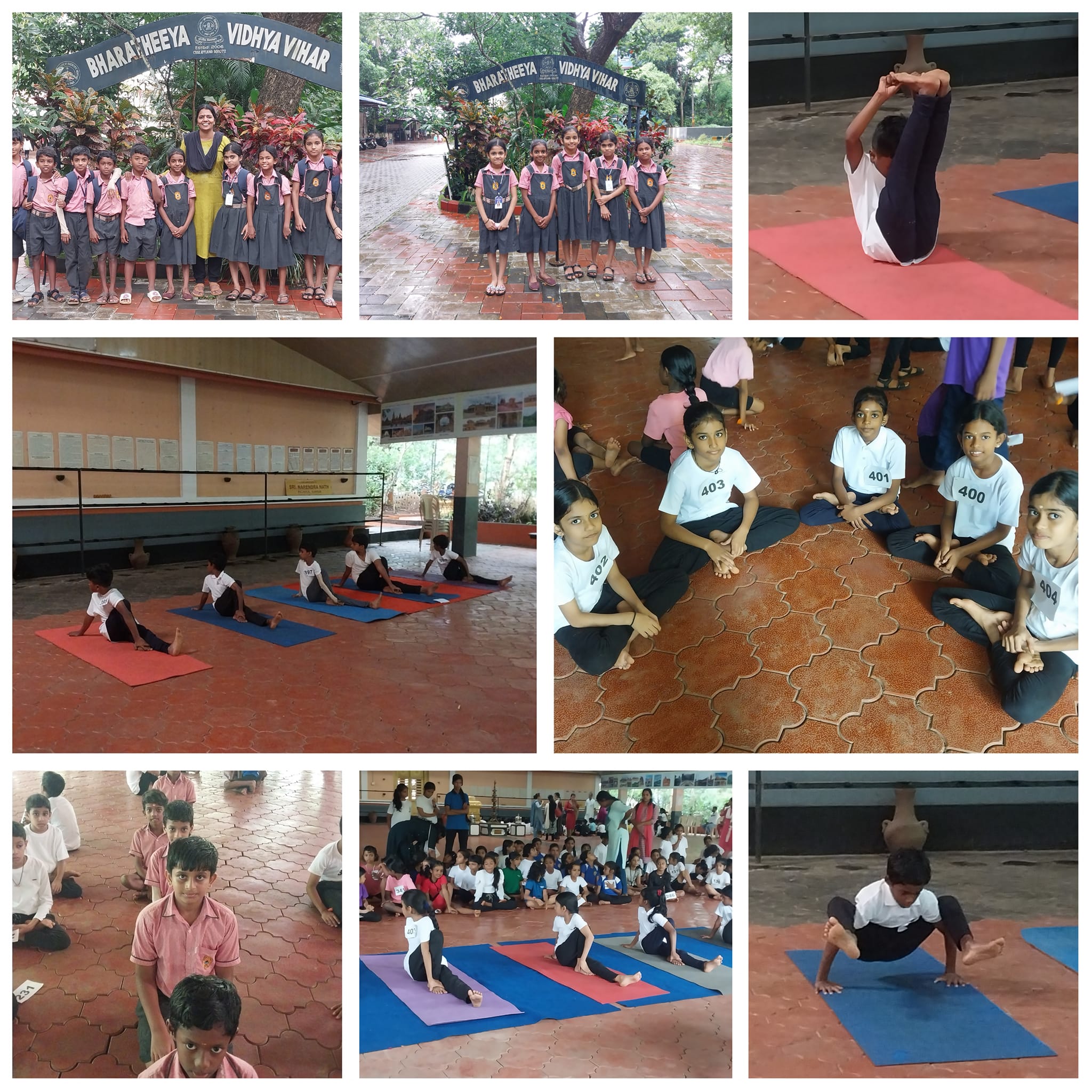 Activities of Trust in July and August 2023
Free Ayurveda Medical Camp and Community Lunch- 1 July 2023 at Masithigoundenpathi Village and 5th Aug 2023 at Kaliapuram Village.
Report of Ayurveda Medical camp at Masithigoundenpathi – Number of patients 117, community lunch was taken by 200 villagers.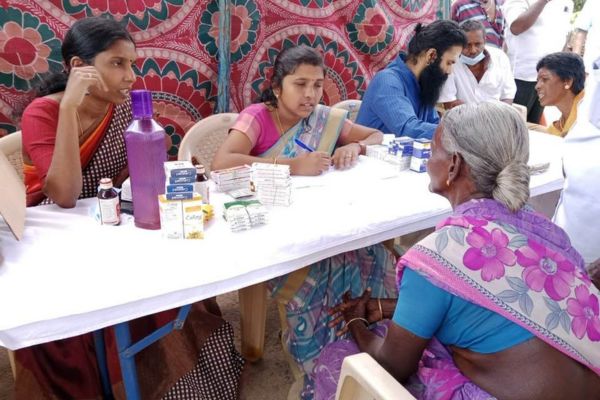 Report of Free Ayurveda Medical Camp and Community lunch at Kaliapuram Village. Number of patients who consulted the senior physicians of Vaidyagrama and got free Ayurveda medicines – 71 patients including men, women and children from Kaliapuram and nearby villages and around 200 villagers had the sumptuous lunch.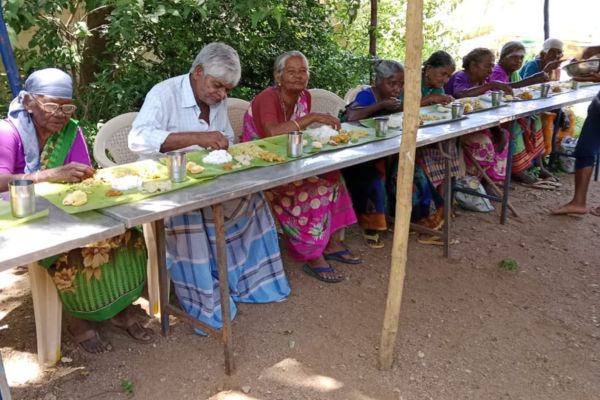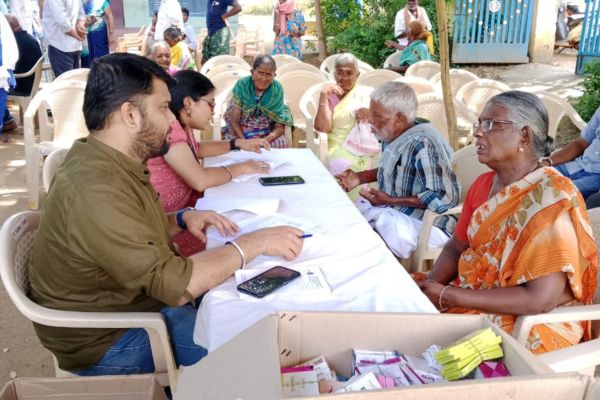 July – 01 – This year, the National Doctors Day Theme is "Celebrating Resilience & Healing". Vaidyagrama Salutes the Great Healer & all healers in our world!
July 03 – On Guru Purnima day, we are most happy and proud to inform that our dear Dr.Mala Kapadia has been selected as a GURU for felicitation at the Grateful to Gurus 2023 event by Indic Academy.
July 13 – Vaidyagrama family was delighted to have Shri. M.K.Narayanan ji with us (He was National Security Advisor & Governor of West Bengal)…We were happy to Have Shri. Navin Chawla ji ( Former Election Commissioner of India) also with us on this blessed day!)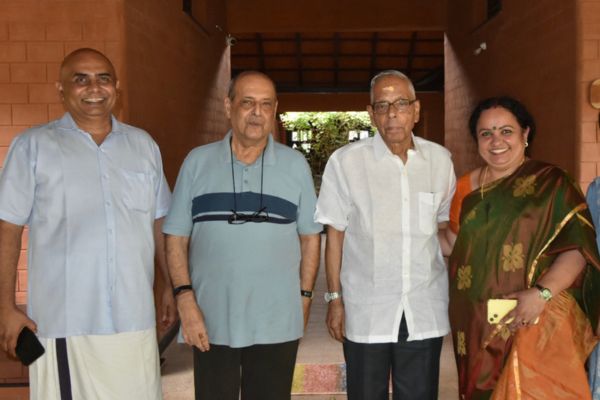 Aug 15, 2023- Independence day was celebrated at Vaidyagrama with much enthusiasm.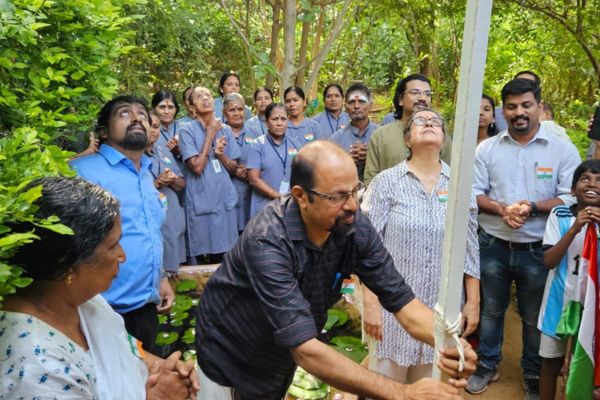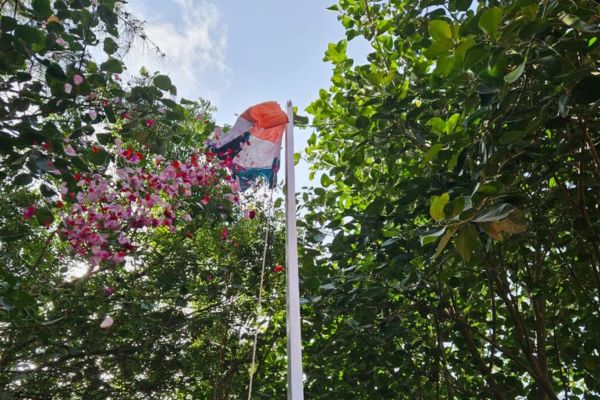 Aug 24 Visit of Dignitaries- Sri. Sai Sreenivas Nandagopalan Guruji (Principle Acharya of Sri Datta Guru Peettam, Chennai) Visited and blessed Vaidyagrāma on 24 Aug 2023